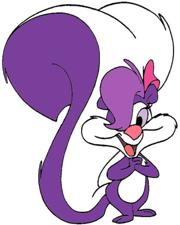 Fifi La Fume
is a cartoon character from the Warner Bros. animated television series,
Tiny Toon Adventures
. She is a cute and very pretty purple and white female skunk and one of the most frequently recurring characters on the show. Fifi is voiced by
Daniella Monet (season 4-5)  Kath Soucie (season 1-3)  kelli berglund (specials and movies)
she loves fashion, Love, Music, Cleaning farting,movies,   she hates five nights at freddy's game scary game (the ghost)
Fifi appears in Every Episode.
Like Her Looney Counterpart has A Crush, Fifi now has her own Boy to chase. His name is Thomas Tomcat.