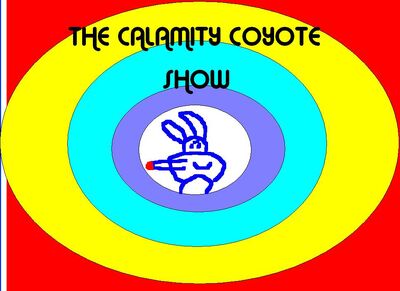 The Calamity Coyote Show is a spin-off of
Tiny Toon Adventures
. The show stars
Calamity Coyote
&
Little Beeper
. It also features the coyote & roadrunner TTA Fan Characters. In the show Calamity tries to catch Beeper but fails. In some episodes Calamity is able to talk in the series. The series is done in CGI animation instead of 2D animation like in the regular Tiny Toons. It premiered on October 29, 1997 and ended on July 7, 1999. But came back on September 20, 2004 after a 5-year hiatus and ended on August 22, 2008.
TTA Characters
Edit
Calamity Coyote
Little Beeper
Furrball
Fowlmouth
Buster & Babs Bunny
Plucky Duck
Hamton Pig
Fifi LeFume
Mary Melody
Shirly the Loon
and coyote & roadrunner fan characters
Pilot (1996)
Edit
Season 1 (1997)
Edit
A Give Up on Roadrunner Chasing
Season 2 (1998)
Edit
Season 3 (1999)
Edit
Season 4 (2004)
Edit
Season 5 (2005)
Edit
Season 6 (2006)
Edit
Season 7 (2007)
Edit
The Calamity Coyote Show's 10th Anniversary
Season 8 (2008)
Edit
Theme song
Edit
[In the tune of the TTA theme]
Calamity: I'm tiny
I'm toony
I am a little looney
And this afternoony, where are the cartoon staffs?
My name's Calamity
I chase Beeper for foodies
And on my own cartoony, I will make you laugh!
I buy from ACME so that I can just succeed
But Little Beeper always runs me down right to my feet!
I'm tiny
I'm toony
I am a little wiley
It's time to watch cartoons with me, Calamity!
Little Beeper: I'm redder
I'm speedier
My name is Little Beeper
I always get away from Cal because I'm very fast!
My sneakers...
White, bluer!
They make me very quicker
Uh, oh, Cal's backer!
My legs, let's have a blast!
Calamity and Beeper: So Acme Acres is our hometown, we live there
And there are lots of stuff to do, it's chasing, and it's fair!
We're tiny
We're toony
We're both a little funny
Now let's watch cartoons with us, the time's begun!
And now our song is done!